Second in a series of short blog posts introducing new features of our online database
Have you tried our Language Filter yet? Since we at the Index of Medieval Art realize that some of the search features available to users of the new database may be unfamiliar, we thought that we ought to take some time to recommend and explain a few of them. This time, let's discuss your use of language, shall we? Specifically, did you know that you can filter your searches to look for images that appear in the context of a certain language? Well, you can!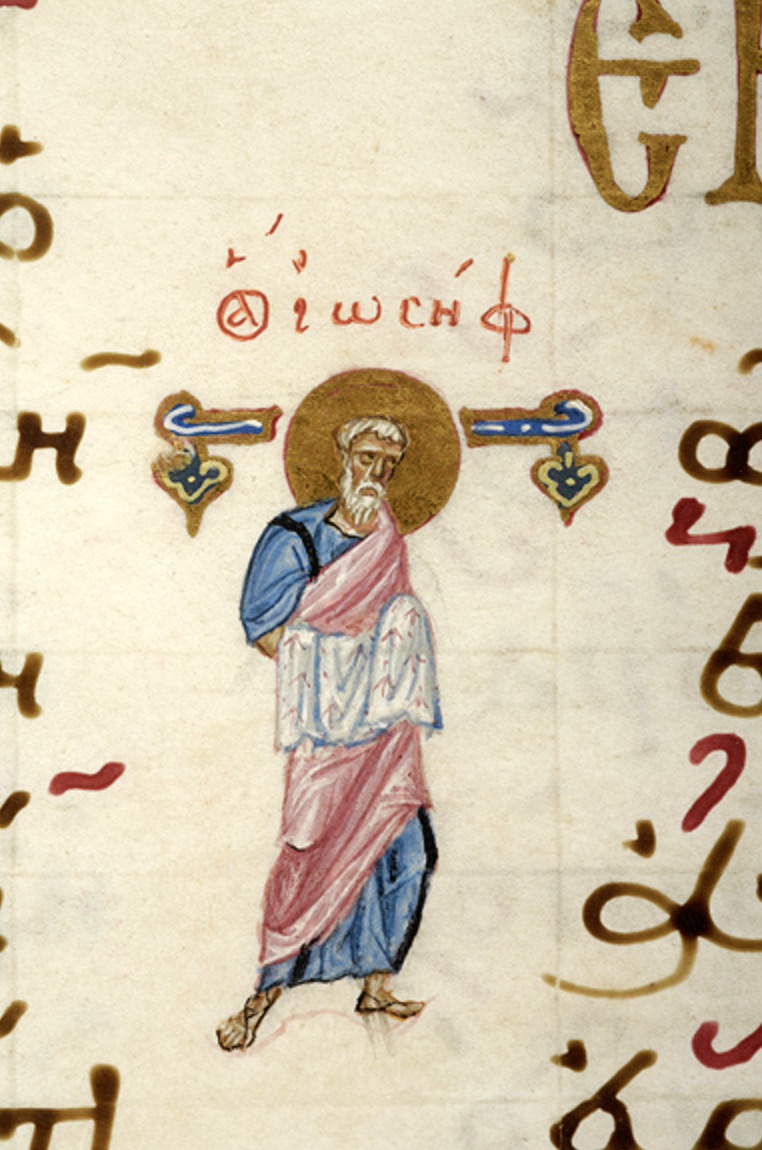 Say you're interested in images of Joseph of Arimathea, for example, whether in a scene—such as the Deposition or the Entombment—or as an isolated figure. You might start with a simple keyword search for "Arimathea" on the database homepage, or you could also use the "Terms" tab on the "Advanced Search" page, checking "Description" and "Subject" in the "Search Fields" checklist, a strategy that currently yields a whopping 735 results.
Now let's try using one of the filters. Simply switch to the "Filters" tab on the "Advanced Search" page. Feel free to explore, and try all or any of the filters. For the purposes of this demonstration, however, we're thinking about language, so let's start by narrowing our search to manuscripts. Simply select "Manuscript" in the Work of Art Type Filter (Example 1), then click "Search" again. You'll discover that, in this case, you have nearly halved the search results to 373, but that's still a lot of records to consider.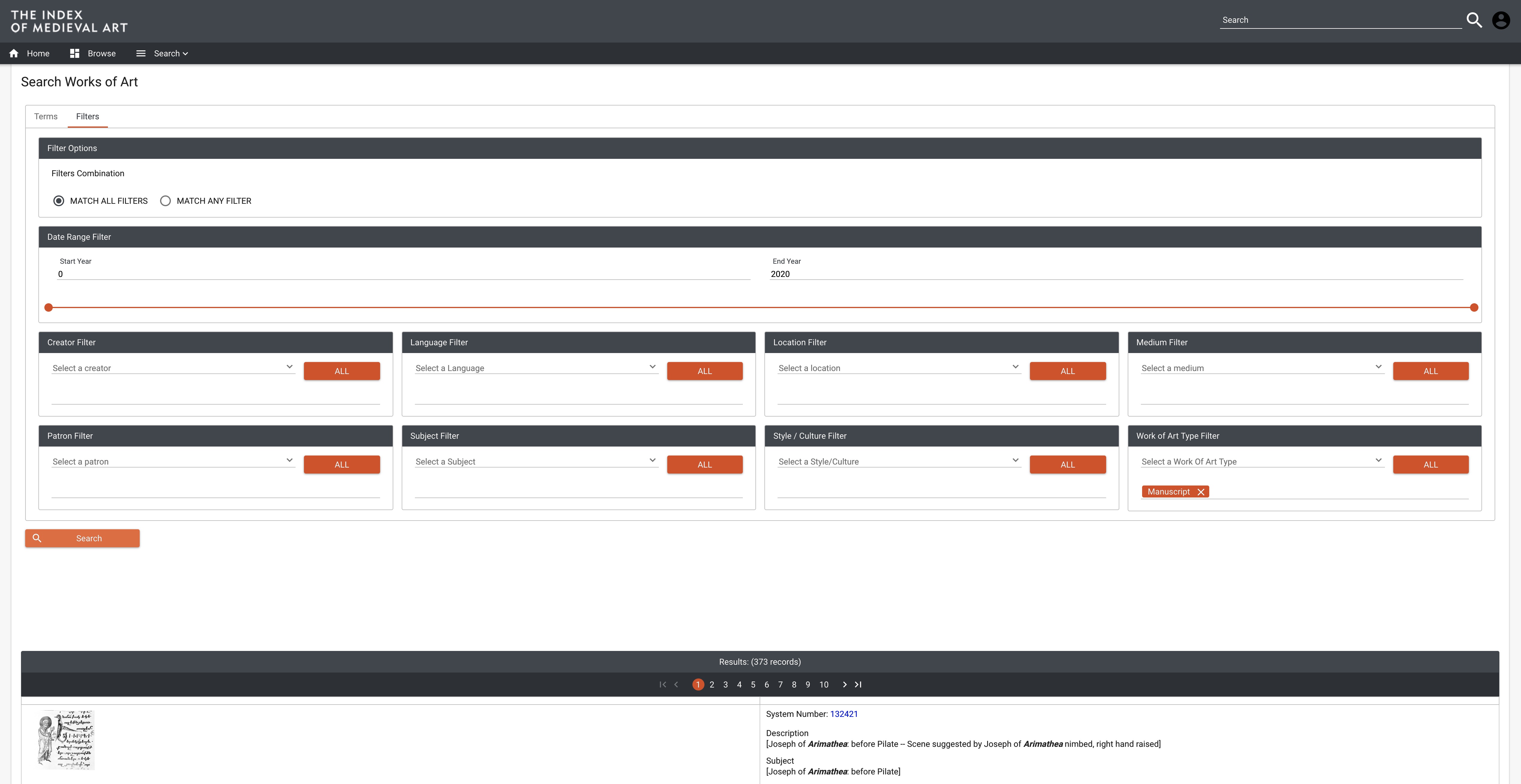 Now here comes the exciting part! If you know that you're interested in a particular linguistic context, then you can add the Language Filter to your Advanced Search. There are currently 48 languages to choose from in the Index of Medieval Art database. For this demonstration, we've specified Greek (Example 2), so we're searching for the word "Arimathea" where it appears in either the Subject field or the Description field, only in records for which the Work of Art Type is "Manuscript" and the language of the manuscript is "Greek." Click "Search," and you'll discover that you have been able to filter your results down to a manageable 32 records!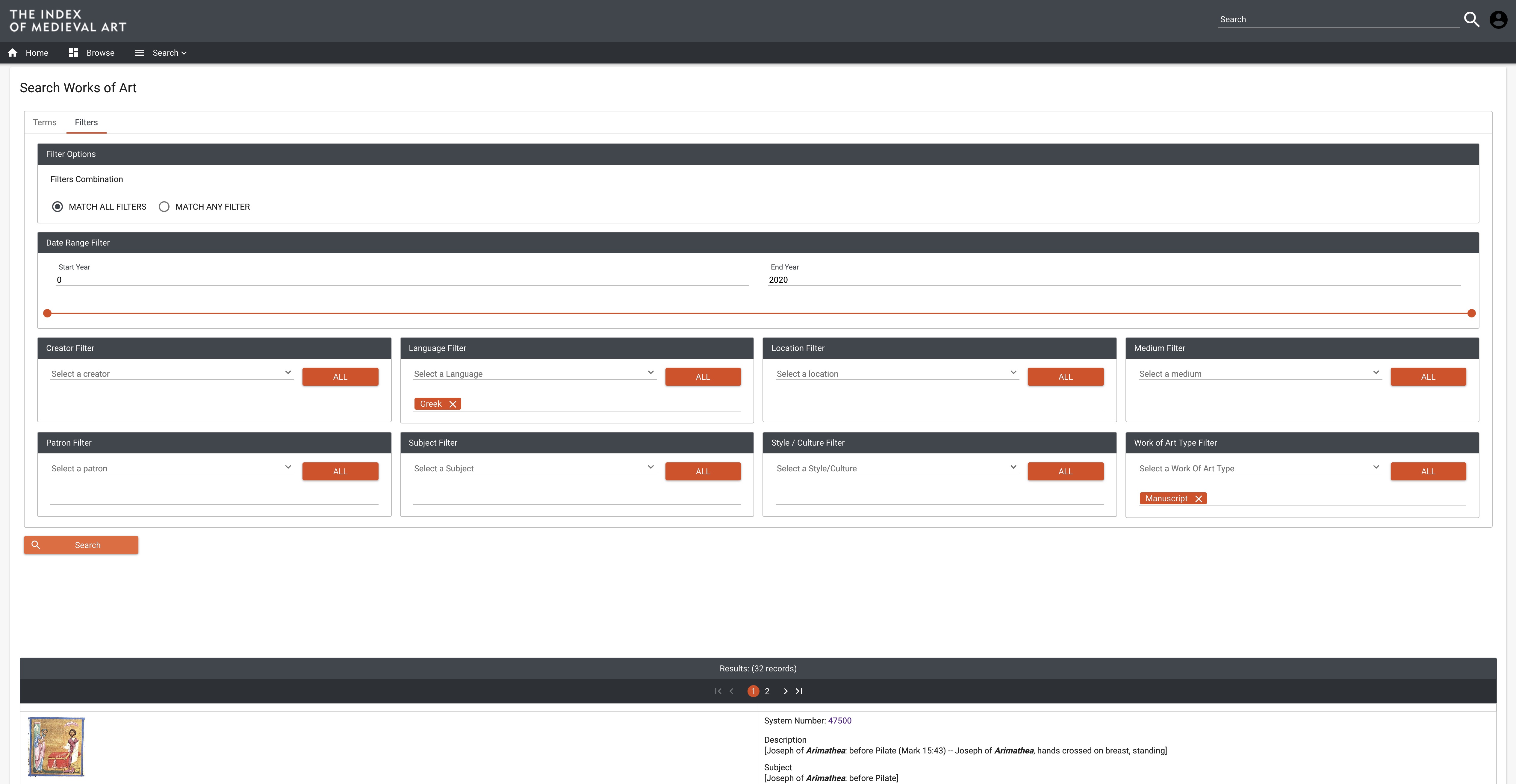 Simple, n'est-ce pas?
You can easily change the Language filter to compare results from one language to another. Changing Greek to Armenian yields ten results. Church Slavonic yields six. Filtering for some languages may return nothing, others quite a lot. Latin, for example, returns 233 results, so you might want to add another filter to your search. For the time being, only the languages of manuscripts are identified in the database. Eventually, however, the Index database will identify the language or languages of every object that incorporates the written word.
You might have noticed that names of some languages include date ranges, as in "Middle English (1100–1500)." Although such dates can seem arbitrary, we try to differentiate among the stages of a language's development. If you're curious about how the Index defines a language, or about what sources we cite, you can click on the language name in the Language field of a Work of Art record. This will take you to a page where you can read the Language Details. There you'll also find citations and external reference codes (Glottolog and ISO 639-3). On that page, there is also a list of all Work of Art References that include that language.
So, start exploring, and be sure to try out the filters available in the new Index of Medieval Art database. Also, please let us know what you think…but mind your language!