First in a series of short blog posts introducing the new features of our online database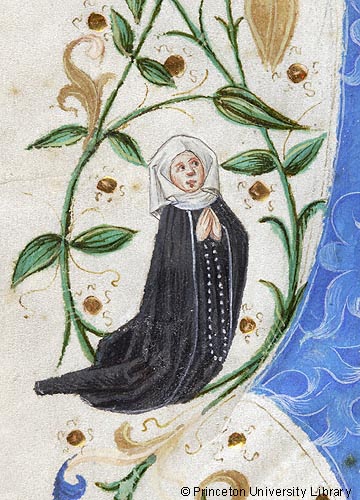 Did you know that you can search The Index of Medieval Art for information about patrons of medieval art? The Index records both identified and unidentified patrons, the latter entered as grouping terms for types of patrons (Male, Female, Couple) and major monastic orders, such as Augustinian, Benedictine, and Carmelite. There are also general headings for anonymous male and female patrons (Male, unidentified and Female, unidentified). Names of churches, monasteries, and abbeys are given by their proper titles, such as Canterbury Cathedral, but might be further identified by location (e.g. Abbaye d'Anchin [Pecquencourt, France]).
For an overview of our patron headings, click on Browse at the top of the Index landing page. This will bring you to a list of over 900 names and grouping terms sorted in alphabetical order. To reach a specific entry, type the first few letters of a name into the search line at the top of the list. For instance, typing in "Blanche" will bring you to all Blanches from Burgundy, Castile, France, Navarre, and also the late 14th-century Countess of Geneva. Clicking on any patron heading will return a glossary entry comprising a biographical note with dates, alternate names of the patron, a bibliographic citation, an external reference for the authority source, and all the work of art examples linked to that patron.
Our patron entries are formatted in keeping with standard biographical authorities, such as the Library of Congress Name Authority File, the Virtual International Authority File (VIAF), and Oxford References. Patrons are identified in the Index database by their roles and dates when these are known. When performing an Advanced Search in the "Terms" screen, you may prefer to keep the Match Type set to "Default," which will search all parts of the heading. In the "Terms" window, a search can be formulated with keywords such as "Pope," "Doge," or "Prince," using "Patron" in Search Fields to locate medieval patrons by their role. Similar keywords, along with keywords for place indicators like "Monastery" or "Convent," can be searched against the "Patron Note" field, which will search the biographical notes in the patron glossary.
Many of the monastic patrons contain their locations in parentheses after the name of the community, so countries of patronage activity can also be searched as keywords. For instance, searching against "Patron" or "Patron Notes" with the keyword "Italy" returns over 150 records. This indicates artwork results for a patron who was active in Italy. From here, in the "Filters" window, the Date Slider can be used to refine results. The "Terms" search can be refined with any of the additional filters, including "Location," "Medium," "Style/ Culture," and "Work of Art Type."
Are you interested in finding out which female patrons were active in France in the 14th century?
In the Advanced Search "Terms" screen, enter the keyword "Female" and choose the Search Field "Patron" (keeping Match Type set to "Default," as recommended).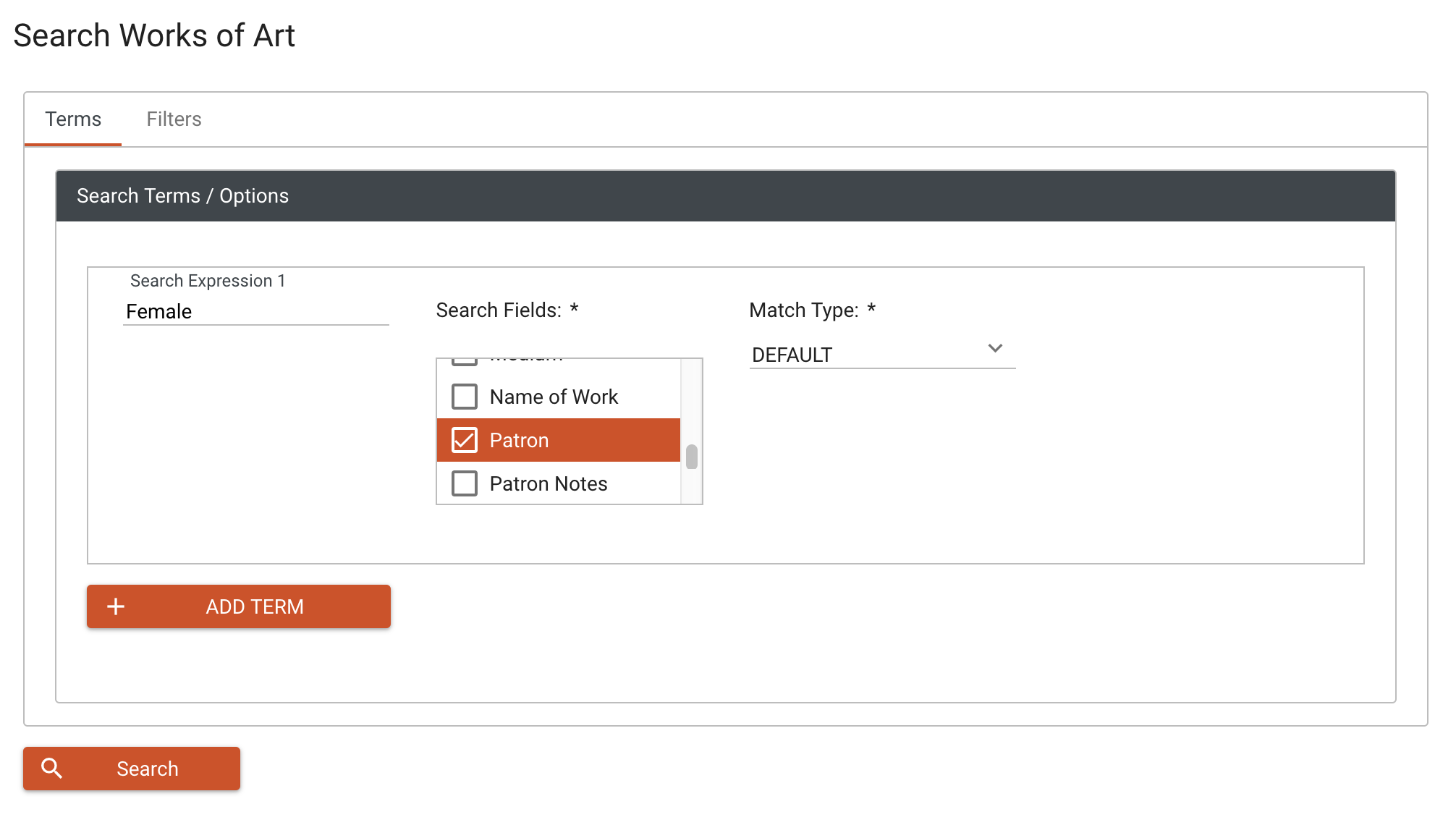 Then, go to "Filters," select "France" as a Location, and set the Date Slider to 1300 and 1399.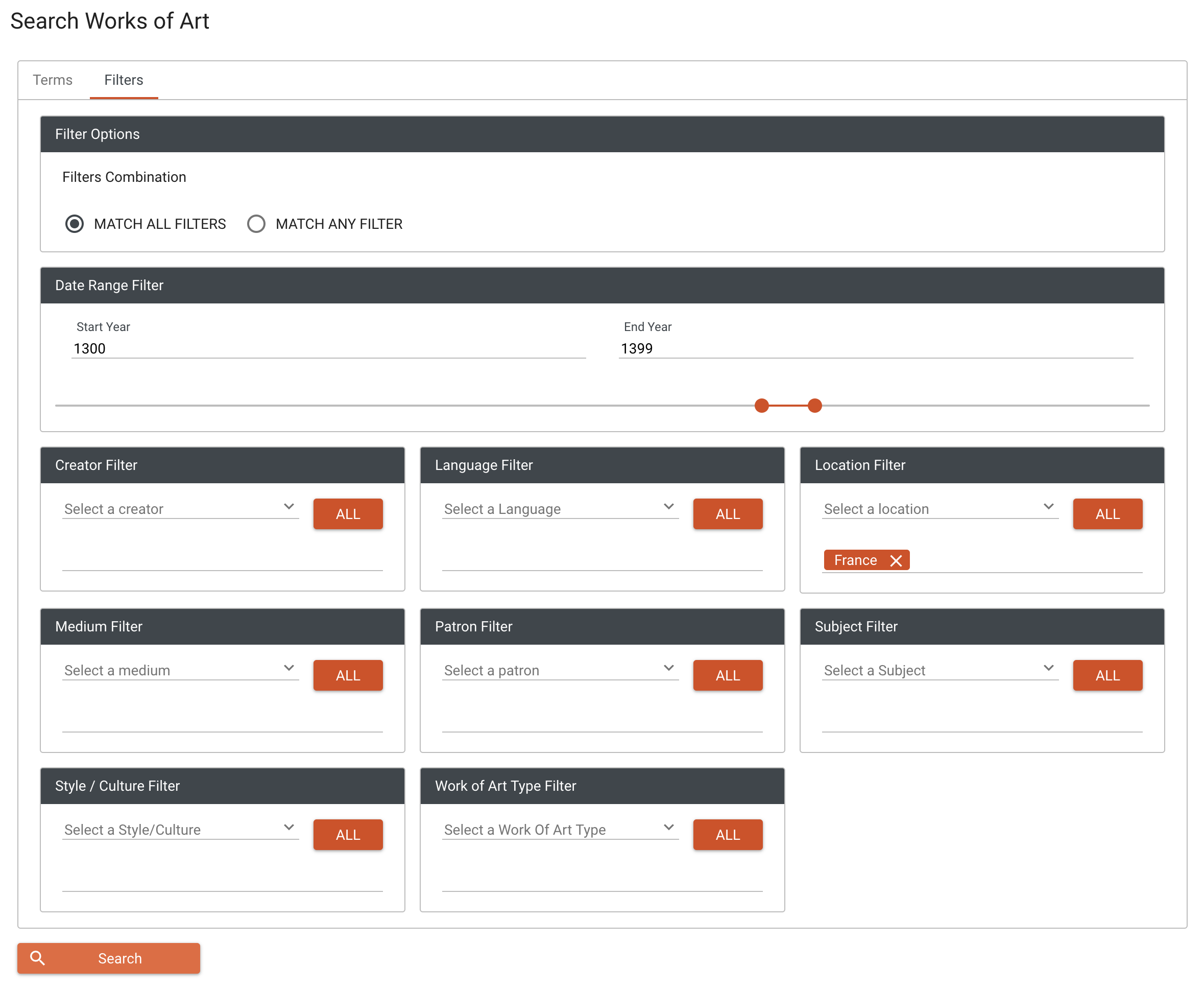 This search should yield 27 examples, where a female patron is connected to the 14th century work made in any part of France.
*In results, please note that work of art records without images usually indicate the Main record.
As you search for patrons in the new Index of Medieval Art database, bear in mind that visual representations of patrons are found in the Subject field. To find images of patrons, you can browse or search the Subject field with the keyword "Donor." To read more about medieval patronage practices in general, you might find the Index's 2013 conference publication Patronage, Power, and Agency in Medieval Art of interest. Enjoy refining your searches and browsing the range of patrons we record in the Index! And please remember that we are always happy to have your feedback. Get in touch with us at theindex@princeton.edu.