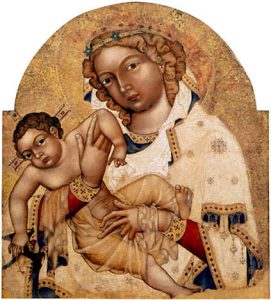 Mother's Day has been celebrated annually in the United States on the second Sunday in May for over one hundred years. Following its declaration as an official holiday by the state of West Virginia, Woodrow Wilson issued a proclamation announcing the first national Mother's Day on 9 May 1914.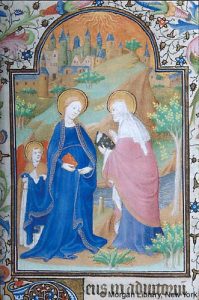 Images of the Virgin and Child are among the most common depictions of motherhood from the Middle Ages. The Strahov Madonna of ca. 1340 captures the dynamism (or "squirminess") typical of small children, while also communicating to beholders the special status of the figures through solemn expressions and meaningful gestures. The Child grasps his mother's veil with his left hand and holds a goldfinch in his right hand, a pose adapted from the Virgin Kykkotissa, a highly venerated, miracle-working Byzantine icon thought to have been painted from life by Saint Luke. Portrayals of the Visitation present an earlier stage of motherhood.
A fifteenth-century French Book of Hours shows the pregnant Virgin gently cradling her swollen abdomen as she greets her cousin Elizabeth, pregnant with John the Baptist, who "leaped in her womb" (Luke 1:41). A thirteenth-century fresco of the birth of John the Baptist from Parma Baptistery captures yet another aspect of motherhood, depicting two midwives tending to Elizabeth as two others bathe her newborn infant.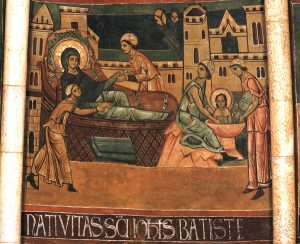 The Index of Christian Art has 29 subject records for the Virgin Mary and Christ Child. John the Baptist: Birth appears in 104 records.