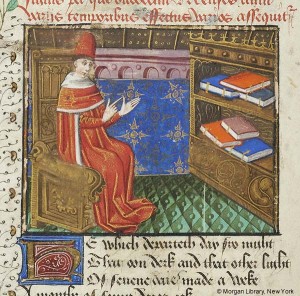 The Index of Christian Art is pleased to invite applications for a one-year postdoctoral fellowship for AY 2017-2018, with the possibility of renewal contingent on satisfactory performance.
Funded by a generous grant from the Kress Foundation, the Kress Postdoctoral Fellow will collaborate with permanent research and professional staff to develop taxonomic and research enhancements for the Index's redesigned online application, which is set to launch in fall 2017. Salary is $60,000 plus benefits for a 12-month appointment, with a $2,500 allowance provided for scholarly travel and research. The Fellow will enjoy research privileges at Princeton Libraries as well as opportunities to participate in the scholarly life of the Index and the Department of Art & Archaeology.
The successful candidate will have a specialization in medieval art from any area or period; broad familiarity with medieval images and texts; a sound grasp of current trends in medieval studies scholarship; and a committed interest in the potential of digital resources to enrich work in art history and related fields. Strong foreign language and visual skills, the ability to work both independently and collaboratively after initial training, and a willingness to learn new technologies are highly desirable; previous experience in digital humanities, teaching, and/or library work is advantageous. Applicants must have completed all requirements for the PhD, including dissertation defense, before the start of the fellowship. Preference will be given to those whose subject expertise complements that of current Index staff.
Applications will be reviewed beginning January 15 and will continue until the position is filled. Applicants must apply on line at https://jobs.princeton.edu/applicants/jsp/shared/Welcome_css.jsp, submitting a C.V., a cover letter, a research statement, and the names and contact information of three references. The position is subject to the University's background check policy.
Princeton University is an Equal Opportunity/Affirmative Action Employer, and all qualified applicants will receive consideration for employment without regard to age, race, color, religion, sex, sexual orientation, gender identity or expression, national origin, disability status, protected veteran status, or any other characteristic protected by law.