"And when he was come into Jerusalem, the whole city was moved, saying: Who is this? And the people said: This is Jesus the prophet, from Nazareth of Galilee." (Matthew 21:10-11)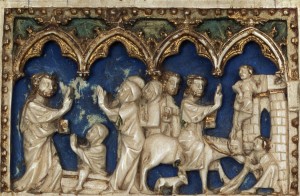 Celebrated seven days before Easter Sunday, Palm Sunday marks the beginning of Passion Week and commemorates Jesus's triumphal entry into Jerusalem. The episode, which appears in the four canonical gospels, describes the multitudes gathering at the gates of Jerusalem to welcome Jesus, laying their cloaks and branches on the ground in recognition of his status as the Messiah.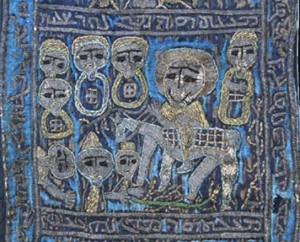 The earliest extant pictorial representations of the Entry into Jerusalem date to the fourth century, and the subject was popular across media throughout the Middle Ages.  A highly compressed version of the episode appears on a fourteenth-century ivory diptych from the Abbey of Muri, Switzerland, which is decorated with Passion scenes.  The right side of one of the leaves portrays a single disciple trailing the mounted Christ blessing two figures, who serve as shorthand for the multitudes.  Equally schematic is the Entry into Jerusalem on the batrashil of bishop Athanasius Abraham Yaghmur of Nebek, produced in Syria in the fourteenth century.  This long, embroidered stole shows three figures placing a palm branch before Christ, riding on an ass and attended by five disciples.
The lintel from the main portal of the twelfth-century church of San Leonardo al Frigido in Italy presents a more expansive version of the scene by illustrating all twelve disciples, their open mouths perhaps indicative of speech, and three small figures perched in a tree on the right-hand side of the composition.  The last detail, common in depictions of the subject, relates to the prophecy of Zechariah, which describes children breaking branches from an olive tree and following the crowd into Jerusalem.