This summer The Index of Medieval Art welcomed two students from the Master of Information program at Rutgers University to inventory the Index's photographic archive. Comprising nearly two hundred thousand cards in sixteen different medium categories, this historic image collection provides researchers a rich resource of sometimes rare visual references for the study of art produced throughout the Middle Ages. The inventories undertaken by Ryan Gerber and Michele Mesi have illuminated the extent of the archive and helped to assess the image and cataloguing needs for ongoing research and cataloguing at the Index. In this special two-part blog post, we are pleased to present their observations and accounts of their experiences.
---
It is a testament to the Index's stimulating power that, despite my lack of an art-historical background, I found myself entranced by the system of cataloguing medieval iconography that the Index pioneered and is still practicing to this day. Its vision of greater accessibility through complete digitization represents another milestone in its long history, and one which will be a gift to scholars of all persuasions and experience levels.
A system largely developed by Index director Helen Woodruff in the 1930s, the photographic archive is organized in the first place by medium, then by location, object type, and the numeric order within that group. Unique codes on the left-hand corner of every index card in the catalogue represent each of these levels of organization. The fruits of this labor are hard to miss after spending any time with the Index and its elegantly interwoven subject index and photographic archive, where one can move seamlessly from subject description to pictorial representations and vice versa.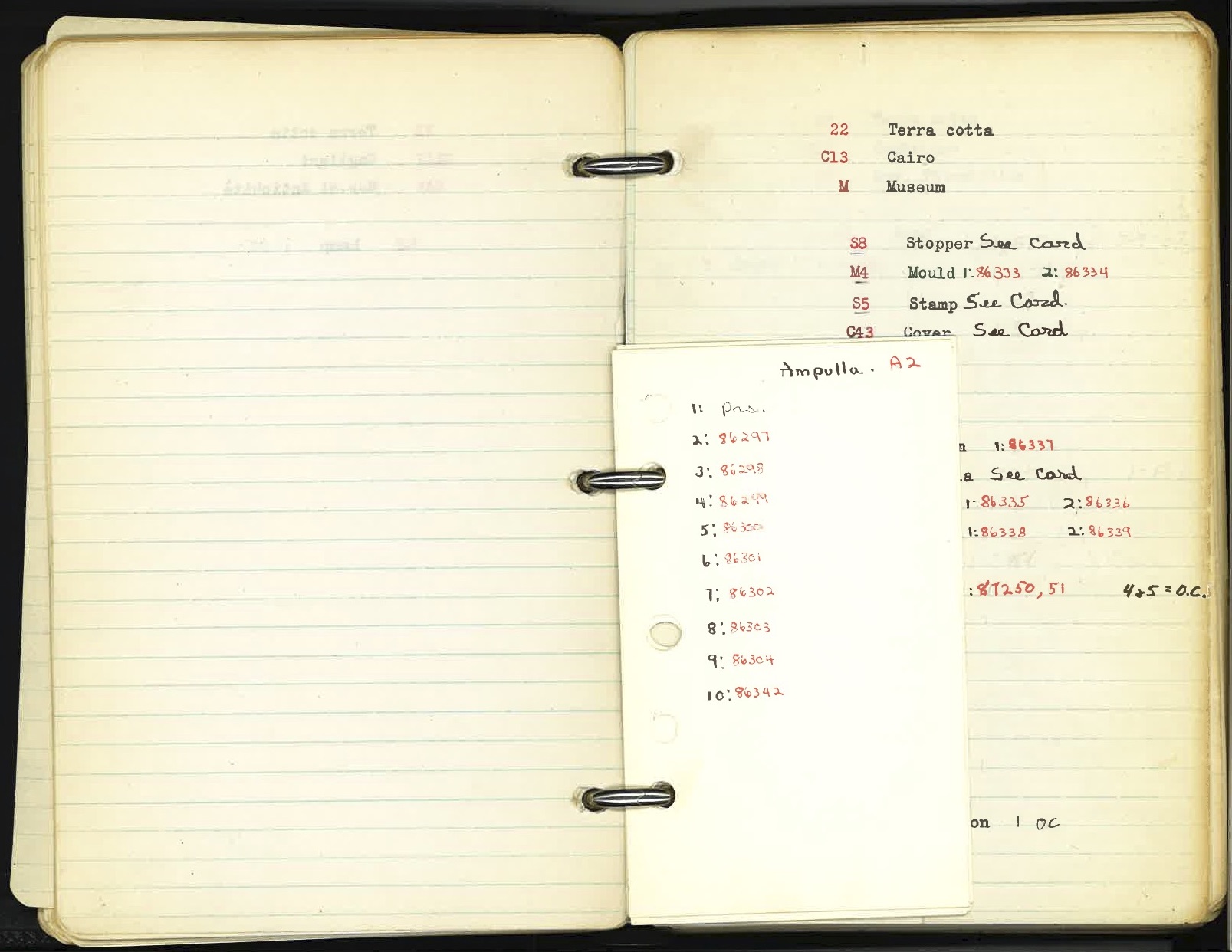 This work has also left behind a trove of archival resources such as hundreds of rolls of film and the so-called "Black Books" that were used to track the negative numbers. Each of the medium categories I inventoried not only laid the groundwork for further analysis of the collection as a whole, but highlighted the Index's remarkable century-old ability to generate new curiosities and paths of inquiry.
Terracotta, Temporary Cards, Lamps, and Lions
Under the medium "Terra Cotta"—a mixture of clay and water that is formed and baked or fired—the Index records more than twenty-five hundred objects across 196 locations. Of these objects, about sixty-five percent of them are oil lamps. The inventory of these files revealed some of the more common iconographic motifs found on terracotta objects, which include foliate ornament, a variety of land animals and birds, symbols such as crosses, as well as inscriptions and monograms. One terracotta lamp from the Benaki Museum in Athens depicts two of these popular motifs—a lion and a tree—combined on one impressed discus (Fig. 1).
Most photograph cards contain representations of the objects, but they also record the object's location, the photograph's negative numbers, subject headings for the image or images on the object, and some bibliographic information. However, there are many temporary "Orange Cards" in the archive that contain only a bibliographic reference and a subject term, and these still await corresponding images. Their inclusion in the original system nonetheless provides important data points about the objects they describe, laying the groundwork for future cataloguers to source the images for these object records. For example, the Index's photo archive of terracotta objects in the National Museum at Carthage is mostly Orange Cards because the original Index records of these objects derive from a 19th-century publication with very few illustrations. While it would be useful to see images of the "lions" held at the National Museum in Carthage, even in the absence of photographs it may be just as useful to know that, of the 970 terracotta lamps held in that location, nearly four hundred depict animals, and about sixty-five of those include a lion.
A Face in Gold Glass
The "Gold Glass" files record over 650 objects across sixty-three locations dating mostly from late antiquity between the 3rd and 7th centuries. Of these objects, nearly half are vessels of some kind. Gold glass developed as a medium in the ancient Roman and Hellenistic periods and consisted of decorative engravings made in gold leaf, which were then sandwiched between fused layers of glass. The result was lavish decoration, and exemplary pieces in this medium offer strikingly detailed portraits of their subjects, often depicting married pairs, family groups, or religious figures associated with one another, such as Saints Peter and Paul. Historians have noted the rarity of gold glass, as well as its costly, specialized method of production.[1]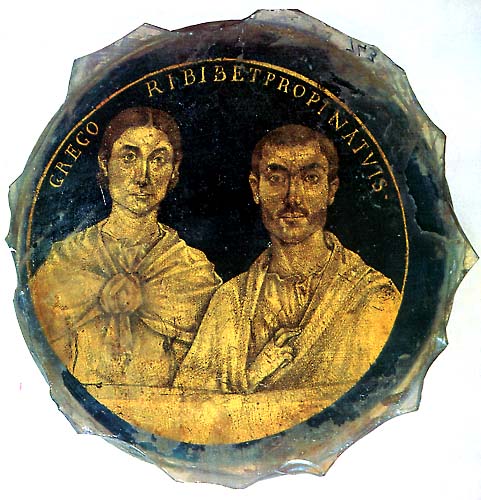 Gold glass was a special interest of Index founder Charles Rufus Morey, and his pioneering catalogue of the Vatican Library's collections features as its first entry an example also catalogued by the Index. It shows the busts of a married couple inscribed above with the name Gregori and a Latin equivalent of "cheers!": "Gregori bibe [e]t propina tuis," or "Gregory, drink and drink to thine!" (Fig. 2).[2]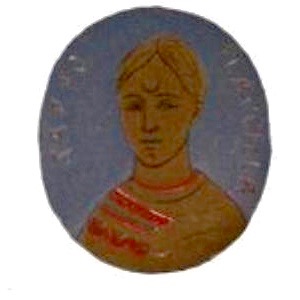 Another interesting discovery in the "Gold Glass" category was a round vessel fragment last recorded in the Cabinet des Médailles in Paris. It depicts a striking bust of a figure with shorn hair, dressed in a trimmed tunic, and with a distinctive crescent shape on their forehead. The only other information on the photograph card was the source of the image, the antiquities catalogue that Anne-Claude-Philippe de Caylus published in seven volumes from 1756 to 1767.[3] Caylus's catalogue was a valuable starting point for identifying this figure, whose iconographic description had not been entered in the Index's subject files or the database. A little more searching led to a color image in a French catalogue, the Histoire de l'art de la Verrerie dans l'Antiquité (Fig. 3), and to the conclusion that the inscription "SAPPO FLACILLAE"—with the genitive form of the empress's name—referred to a branded slave who had been freed by the Roman Empress Aelia Flacilla (356–386). We also used the photo-editing web application Pixlr to create a positive image of "Sappo" so that the image from the Index archive can now be seen as it appeared in the catalogue of the comte de Caylus (Fig. 4).
Impressions in Wax
Comprising a little over one thousand objects in 105 locations, the "Wax" medium files are overwhelmingly made up of stamps from Europe dating largely to the 13th and 14th centuries. Although the archive groups these objects into the single object category "Stamp," the Index database divides them into two Work of Art Types, "Seal Matrix" (that is, the tool used to make the impression) and "Seal Impression" (that is, an impression made by a matrix).[4] Viewing about a thousand examples of Gothic seals intended for both religious and secular officialdom brought into literal relief the development of the production of seal dies from simple figural representations to complex ecclesiastical chapters in miniature, such as the Stamp of Ely Priory, dated to about 1240–1260 (Fig. 5). Other favored subjects in wax seals include heraldry, nobles, and popular saints and bishops, like Thomas Becket. The wealth of iconographic information in the "Wax" files—indeed throughout the archive—emphasizes that the Index is not a closed system, and has at every turn great potential for leading one into new areas of inquiry.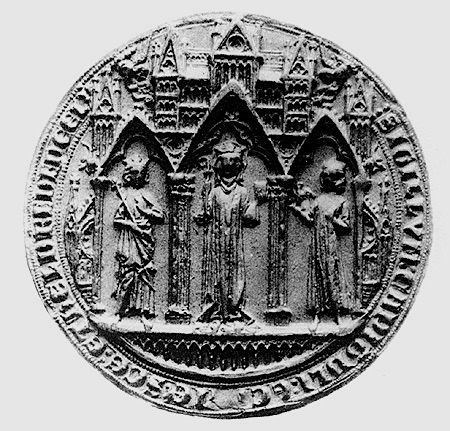 ---
Ryan Gerber is a graduate student at Rutgers University studying Information Science with a concentration in Archives and Preservation. He holds an MA in English from The College of New Jersey with a concentration in Medieval and Early Modern Literature. His interests include digital preservation and retrieval, the digital humanities, and information behavior.

---
See Part 2 written by Michele Mesi.
[1] Giulia Cesarin, "Gold-Glasses: From their Origin to Late Antiquity in the Mediterranean," in Things that Travelled: Mediterranean Glass in the First Millennium AD (London: UCL Press, 2018), 22–45.
[2] Morey noted of the inscription that "the E of 'bibe' or of 'et' [was] omitted by mistake." Charles Rufus Morey, The Gold-Glass Collection of the Vatican Library (Vatican City: Biblioteca Apostolica Vaticana, 1959), 1. Translation after Georg Daltrop in Leonard von Matt, Georg Daltrop, and Adriano Prandi, Art Treasures of the Vatican Library (New York: Abrams, [1970]), 168.
[3] Anne-Claude-Philippe de Caylus, Recueil d'antiquités égyptiennes, étrusques, greques, romaines et gauloises (Paris, 1756–57), 193–205, pl. 53.2, https://archive.org/details/recueildantiquit03cayl/page/n10.
[4] See the Index database Work of Art Type browse list to access these Work of Art References.