Hanukkah, the Feast of Dedication, also called "Festival of Lights," commenced yesterday (December 6th) at sundown and will continue for eight days. Hanukkah was celebrated as early as the second century BCE to commemorate the rededication of the Second Temple in Jerusalem. Under Greek imperial rule, many key Jewish practices had been outlawed and the Temple in Jerusalem was filled with pagan implements. The Hellenization of Jerusalem brought with it the dedication of the Temple to Zeus, the destruction of Holy Scriptures, and many crippling assaults against Jewish custom. The Book of Maccabees recounts the story of Judas Maccabeus, son of the priest Mattathias, and his brothers, who formed a revolt against the Seleucid Empire of Antiochus IV Epiphanes, eventually winning against his heir and successor Antiochus V (See I Maccabees 6). A series of battles ensued from 167 to 160 BCE to reclaim Jewish heritage and freedom to worship in the Temple.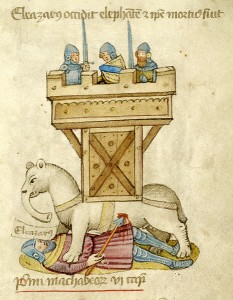 The pinnacle win is classified in the Index under the subject heading, "Maccabees: Battle against Antiochus V" and covers thirteen works of art in the database, mostly in manuscript. Several siege scenes of the Maccabees against Antiochus V armies feature the "Animal: Elephant and Castle" iconography based on the passage in I Maccabees chapter 6. In the passage, Eleazar Avaran runs toward the elephant in royal armor which he believes might harbor the king. In a twist of fate, Eleazar stabs the elephant and it tramples and kills him. Other key  Index subjects relating to the history of Hanukkah include, "Antiochus IV: Siege of Jerusalem," "Antiochus IV: Pollution of Temple," "Judas Maccabaeus: Cleansing of Sanctuary," and "Judas Maccabaeus: Altar rededicated." After the Jews reclaimed the Temple in Jerusalem, it was purified and reconsecrated by the lighting of a multi-branched oil lamp which miraculously burned for eight days; an event which would be marked with the celebration that we now know as Hanukkah.
In medieval times, the growing custom of illuminating the menorah lamp, usually displayed outwardly, fulfilled the rabbi's decree to confirm the "miracle of lights" to the world.  The Index classifies menorah imagery under the subject heading "Candelabrum," using the keyword "menorah" in a description field. There are 177 database examples in a variety of media including stained glass, sculpture, mosaic, terra cotta, and manuscript illumination.