The Elaine C. Block Database of Misericords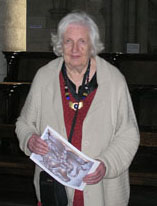 The Elaine C. Block Database of Misericords gathers more than 11,000 digital images of medieval misericords photographed over a thirty-year period. This database duplicates Block's original slide collection, which is held by Frédéric Billiet, Professor of Medieval and Renaissance Music, and Director, UFR Musique et Musicology, at l'Université Paris-Sorbonne.
Misericords are wooden brackets beneath the hinged seats of church choir stalls, and they represent some of the best-preserved wood sculptures of the Middle Ages. Elaine C. Block—professor of Education at Hunter College, The City University of New York, founder and editor of The Profane Arts of the Middle Ages, and founder of Misericordia International, a multidisciplinary network for research on choir stall imagery from the Middle Ages to more recent times—published extensively on medieval misericords, focusing primarily on iconography. Notable essays include "Choir Stall Carvings of Reynard and Other Foxes," in Reynard the Fox: A Social Engagement and Cultural Metamorphoses in the Beast Epic from the Middle Ages to the Present, ed. K. Varty (New York: Berghahn Books, 2000), 125–62; and "Les chemins vers le Ciel ou l'Enfer représentés sur les miséricordes médiévales," in Bible de bois du Moyen Age: Bible et liturgie dans les stalles médiévales, ed. F. Billiet (Angers: Editions de l'UCO, 2003), 65–88. Her surveys of medieval misericords from France, Iberia, and Belgium (Brepols) are standard reference works for research on choir stall carvings.
Scope
This database comprises more than 11,000 images of misericords and other choir stall sculptures, such as armrests, dorsal panels, and canopies, from the thirteenth through the sixteenth centuries. While the collection is pan-European, France and Britain account for more than half the images. The images are organized alphabetically by country and by site.
Use
The Index of Medieval Art has made these images available for study purposes only.
Acknowledgments
The Index of Medieval Art is grateful to Frédéric Billiet, who gathered and organized Elaine C. Block's slides with the assistance of Welleda Muller. Special thanks go to Naomi Kline and Judith Bronfman for their contributions to the project.