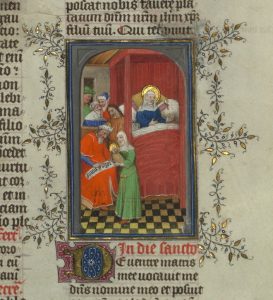 Over the next few weeks, friends and users of the Index will see signs of our gradual shift to a new name, The Index of Medieval Art. This revision was undertaken after careful thought and consultation with Princeton faculty, students, administration, and the wider scholarly community.
The change reflects the broad evolution of our institution's scope and mission since its founding in 1917, when its work was limited to cataloguing religious themes and subjects in early Christian art up to 700 C.E. A century later, our records have expanded to encompass both religious and secular imagery, including Jewish and Islamic works, from the first centuries of the Common Era until the sixteenth century. The scholarly activities that we support and generate have also evolved over the years, reflecting the broad interpretive and interdisciplinary analysis that has become fundamental to the study of medieval images. Our new name signals more accurately our expanded holdings, mission, and goals, as well as our institution's broad potential to serve researchers in multiple fields of study.
If you have already bookmarked our Facebook and Twitter accounts using their original URLs, you'll be redirected to the correct ones and shouldn't notice an interruption. The new URLs for the sites appear below. In the coming months, we will also implement new URLs for this website and our redesigned database, which is set to launch in September 2017. We look forward to sharing news of those changes with you soon!
Facebook: www.facebook.com/imaprinceton/
Twitter: @imaprinceton