Words and Deeds of Charles Rufus Morey at the American Embassy in Rome (1945-1950)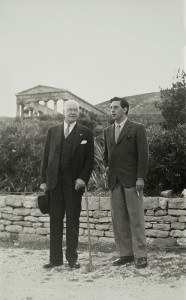 Charles Rufus Morey, founder of the Index of Christian Art, was the first to fulfill the role of American cultural attaché to Italy, a tenure beginning with his retirement from Princeton University's Department of Art and Archaeology in 1945.  A champion of Italian culture, Morey's mission at the American Embassy in Rome not only promoted Italian national heritage but reconstructed it after the ravages of world war. Morey's distinguished background in classics and art history, coupled with his longstanding ties to the study of historical Rome, made his assignment all the more fitting.
As a diplomat, Morey actively sought opportunities to repatriate books and works of art looted in wartime Europe and he created the Union of Archaeological and Historical Institutes to safeguard artifacts in transit.  Two of his notable publications while in Rome were, "The War and Medieval Art," College Art Journal, IV, 1945, and "Saving Europe's Art," Journal of the American Institute of Architects, III, 1945. Among his main activities were the establishment and maintenance of research libraries in Italy. Morey oversaw the direction of the American Academy in Rome from 1945 to 1947, where he brought in major speakers, lectured widely, and organized exhibitions which increased Italian–American cultural exchange.  He formed many collegial relationships with important people, among them nobles, curators, and clerics, who knew him as Professore. Pictured here from the Index archive is a photographic postcard dated 1948 of Morey with Prince Don Giovanni Francesco Alliata di Montereale, President of the Nato-American Association, while they walk together in Segesta, Sicily.
The Index is fortunate to house a wealth of materials associated with Morey during his time in the Foreign Service. Through these items, we wish to show a different facet of the founder of the Index, whose words and deeds as a cultural attaché to Italy left a lasting mark on this organization.  On long-term display in the Index is a collection of Morey's prize medals given to him on various occasions, including one from Pope Pius XII to commemorate the Jubilee year in 1950.
This exhibition was planned to accompany the 25-26 March 2016 Symposium of the Research Group on Manuscript Evidence, "Words and Deeds: Actions Enacted, Re-Enacted & Restored." These materials will be on view until 31 May 2016.